LOHR Jennifer Nicole
, University College London, London, United Kingdom
Adaptation, Evolutionary Ecology, Experimental Evolution, Genotype-Phenotype, Hybridization / Introgression, Life History, Molecular Evolution, Other, Phenotypic Plasticity, Phylogenetics / Phylogenomics, Reproduction and Sex, Species interactions, Systematics / Taxonomy
Recommendations:
0
Review:
1
Educational and work
BSc University of Manitoba, Zoology MSc LMU Munich, Evolution, Ecology and Systematics PhD University of Fribourg, Populaiton genetics Postdoc University of Hamburg, Gene dulplication DFG Postdoc Fellow, UCL London, Evolution of Ageing
Review: 1
22 Oct 2019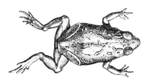 Geographic variation in adult and embryonic desiccation tolerance in a terrestrial-breeding frog
Tough as old boots: amphibians from drier habitats are more resistant to desiccation, but less flexible at exploiting wet conditions
Recommended by Ben Phillips based on reviews by

Juan Diego Gaitan-Espitia

,

Jennifer Nicole Lohr

and 1 anonymous reviewer
Species everywhere are facing rapid climatic change, and we are increasingly asking whether populations will adapt, shift, or perish [1]. There is a growing realisation that, despite limited within-population genetic variation, many species exhibit substantial geographic variation in climate-relevant traits. This geographic variation might play an important role in facilitating adaptation to climate change [2,3].
Much of our understanding of geographic variation in climate-relevant traits comes from model organisms [e.g. 4]. But as our concern grows, we make larger efforts to understand geographic variation in non-model organisms also. If we understand what adaptive geographic variation exists within a species, we can make management decisions around targeted gene flow [5]. And as empirical examples accumulate, we can look for generalities that can inform management of unstudied species [e.g. 6,7]. Rudin-Bitterli's paper [8] is an excellent contribution in this direction.
Rudin-Bitterli and her co-authors [8] sampled six frog populations distributed across a strong rainfall gradient. They then assayed these frogs and their offspring for a battery of fitness-relevant traits. The results clearly show patterns consistent with local adaptation to water availability, but they also reveal trade-offs. In their study, frogs from the driest source populations were resilient to the hydric environment: it didn't really affect them very much whether they were raised in wet or dry environments. By contrast, frogs from wet source areas did better in wet environments, and they tended to do better in these wet environments than did animals from the dry-adapted populations. Thus, it appears that the resilience of the dry-adapted populations comes at a cost: frogs from these populations cannot ramp up performance in response to ideal (wet) conditions.
These data have been carefully and painstakingly collected, and they are important. They reveal not only important geographic variation in response to hydric stress (in a vertebrate), but they also adumbrate a more general trade-off: that the jack of all trades might be master of none. Specialist-generalist trade-offs are often argued (and regularly observed) to exist [e.g. 9,10], and here we see them arise in climate-relevant traits also. Thus, Rudin-Bitterli's paper is an important piece of the empirical puzzle, and one that points to generalities important for both theory and management.
References
[1] Hoffmann, A. A., and Sgrò, C. M. (2011). Climate change and evolutionary adaptation. Nature, 470(7335), 479–485. doi: 10.1038/nature09670
[2] Aitken, S. N., and Whitlock, M. C. (2013). Assisted Gene Flow to Facilitate Local Adaptation to Climate Change. Annual Review of Ecology, Evolution, and Systematics, 44(1), 367–388. doi: 10.1146/annurev-ecolsys-110512-135747
[3] Kelly, E., and Phillips, B. L. (2016). Targeted gene flow for conservation. Conservation Biology, 30(2), 259–267. doi: 10.1111/cobi.12623
[4] Sgrò, C. M., Overgaard, J., Kristensen, T. N., Mitchell, K. A., Cockerell, F. E., and Hoffmann, A. A. (2010). A comprehensive assessment of geographic variation in heat tolerance and hardening capacity in populations of Drosophila melanogaster from eastern Australia. Journal of Evolutionary Biology, 23(11), 2484–2493. doi: 10.1111/j.1420-9101.2010.02110.x
[5] Macdonald, S. L., Llewelyn, J., and Phillips, B. L. (2018). Using connectivity to identify climatic drivers of local adaptation. Ecology Letters, 21(2), 207–216. doi: 10.1111/ele.12883
[6] Hoffmann, A. A., Chown, S. L., and Clusella‐Trullas, S. (2012). Upper thermal limits in terrestrial ectotherms: how constrained are they? Functional Ecology, 27(4), 934–949. doi: 10.1111/j.1365-2435.2012.02036.x
[7] Araújo, M. B., Ferri‐Yáñez, F., Bozinovic, F., Marquet, P. A., Valladares, F., and Chown, S. L. (2013). Heat freezes niche evolution. Ecology Letters, 16(9), 1206–1219. doi: 10.1111/ele.12155
[8] Rudin-Bitterli, T. S., Evans, J. P., and Mitchell, N. J. (2019). Geographic variation in adult and embryonic desiccation tolerance in a terrestrial-breeding frog. BioRxiv, 314351, ver. 3 peer-reviewed and recommended by Peer Community in Evolutionary Biology. doi: 10.1101/314351
[9] Kassen, R. (2002). The experimental evolution of specialists, generalists, and the maintenance of diversity. Journal of Evolutionary Biology, 15(2), 173–190. doi: 10.1046/j.1420-9101.2002.00377.x
[10] Angilletta, M. J. J. (2009). Thermal Adaptation: A theoretical and empirical synthesis. Oxford University Press, Oxford.