2018-11-09
Field evidence for manipulation of mosquito host selection by the human malaria parasite, Plasmodium falciparum
Amelie Vantaux, Franck Yao, Domonbabele FdS Hien, Edwige Guissou, Bienvenue K Yameogo, Louis-Clement Gouagna, Didier Fontenille, Francois Renaud, Frederic Simard, Carlo Constantini, Frederic Thomas, Karine Mouline, Benjamin Roche, Anna Cohuet, Kounbobr R Dabire, Thierry Lefevre
10.1101/207183
Recommended by
Alison Duncan based on reviews by

Ricardo S. Ramiro

,

Olivier Restif

and 1 anonymous reviewer
Malaria host manipulation increases probability of mosquitoes feeding on humans
Parasites can manipulate their host's behaviour to ensure their own transmission. These manipulated behaviours may be outside the range of ordinary host activities [1], or alter the crucial timing and/or location of a host's regular activity. Vantaux et al show that the latter is true for the human malaria parasite, Plasmodium falciparum [2]. They demonstrate that three species of Anopheles mosquito were 24% more likely to choose human hosts, rather than other vertebrates, for their bloo...
More
2016-12-14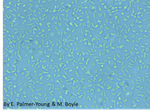 Evolution of resistance to single and combined floral phytochemicals by a bumble bee parasite
Palmer-Young EC, Sadd BM, Adler LS
10.1111/jeb.13002
Recommended by
Alison Duncan and Sara Magalhaes
The medicinal value of phytochemicals is hindered by pathogen evolution of resistance
As plants cannot run from their enemies, natural selection has favoured the evolution of diverse chemical compounds (phytochemicals) to protect them against herbivores and pathogens. This provides an opportunity for plant feeders to exploit these compounds to combat their own enemies. Indeed, it is widely known that herbivores use such compounds as protection against predators [1]. Recently, this reasoning has been extended to pathogens, and elegant studies have shown that some herbivores feed o...
More