2017-06-12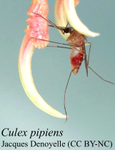 PREPRINT
Evolution and manipulation of vector host choice
Sylvain Gandon
10.1101/110577
Recommended by
Samuel Alizon based on reviews by

Samuel Alizon

and

Nicole Mideo
Modelling the evolution of how vector-borne parasites manipulate the vector's host choice
Many parasites can manipulate their hosts, thus increasing their transmission to new hosts [1]. This is particularly the case for vector-borne parasites, which can alter the feeding behaviour of their hosts. However, predicting the optimal strategy is not straightforward because three actors are involved and the interests of the parasite may conflict with that of the vector. There are few models that consider the evolution of host manipulation by parasites [but see 2-4], but there are virtually ...
More
2016-12-17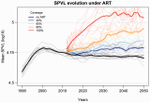 Evolution of HIV virulence in response to widespread scale up of antiretroviral therapy: a modeling study
Herbeck JT, Mittler JE, Gottlieb GS, Goodreau SM, Murphy JT, Cori A, Pickles M, Fraser C
10.1093/ve/vew028
Recommended by
Samuel Alizon and Roger Kouyos
Predicting HIV virulence evolution in response to widespread treatment
It is a classical result in the virulence evolution literature that treatments decreasing parasite replication within the host should select for higher replication rates, thus driving increased levels of virulence if the two are correlated. There is some evidence for this in vitro but very little in the field. HIV infections in humans offer a unique opportunity to go beyond the simple predictions that treatments should favour more virulent strains because many details of this host-parasite syste...
More