2019-03-28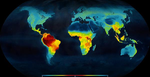 Ancient tropical extinctions contributed to the latitudinal diversity gradient
Andrea S. Meseguer, Fabien Condamine
10.1101/236646
Recommended by
Joaquín Hortal and Juan Arroyo based on reviews by

Juan Arroyo

,

Joaquin Calatayud

,

Joaquín Hortal

,

Arne Mooers

and 2 anonymous reviewers
One (more) step towards a dynamic view of the Latitudinal Diversity Gradient
The Latitudinal Diversity Gradient (LDG) has fascinated natural historians, ecologists and evolutionary biologists ever since [1] described it about 200 years ago [2]. Despite such interest, agreement on the origin and nature of this gradient has been elusive. Several tens of hypotheses and models have been put forward as explanations for the LDG [2-3], that can be grouped in ecological, evolutionary and historical explanations [4] (see also [5]). These explanations can be reduced to no less tha...
More
2019-02-15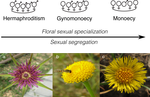 Architectural traits constrain the evolution of unisexual flowers and sexual segregation within inflorescences: an interspecific approach
Rubén Torices, Ana Afonso, Arne A. Anderberg, José M. Gómez and Marcos Méndez
10.1101/356147
Recommended by
Juan Arroyo based on reviews by 3 anonymous reviewers
Sometimes, sex is in the head
Plants display an amazing diversity of reproductive strategies with and without sex. This diversity is particularly remarkable in flowering plants, as highlighted by Charles Darwin, who wrote several botanical books scrutinizing plant reproduction. One particularly influential work concerned floral variation [1]. Darwin recognized that flowers may present different forms within a single population, with or without sex specialization. The number of species concerned is small, but they display rec...
More