2017-11-13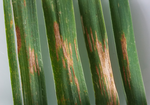 Epidemiological trade-off between intra- and interannual scales in the evolution of aggressiveness in a local plant pathogen population
Frederic Suffert, Henriette Goyeau, Ivan Sache, Florence Carpentier, Sandrine Gelisse, David Morais, Ghislain Delestre
10.1101/151068
Recommended by
Benoit Moury based on reviews by

Benoit Moury

and 1 anonymous reviewer
The pace of pathogens' adaptation to their host plants
Because of their shorter generation times and larger census population sizes, pathogens are usually ahead in the evolutionary race with their hosts. The risks linked to pathogen adaptation are still exacerbated in agronomy, where plant and animal populations are not freely evolving but depend on breeders and growers, and are usually highly genetically homogeneous. As a consequence, the speed of pathogen adaptation is crucial for agriculture sustainability. Unraveling the time scale required for ...
More
2017-04-12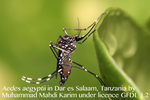 Genetic drift, purifying selection and vector genotype shape dengue virus intra-host genetic diversity in mosquitoes
Lequime S, Fontaine A, Gouilh MA, Moltini-Conclois I and Lambrechts L
https://doi.org/10.1371/journal.pgen.1006111
Recommended by
Frédéric Fabre and Benoit Moury
Vectors as motors (of virus evolution)
Many viruses are transmitted by biological vectors, i.e. organisms that transfer the virus from one host to another. Dengue virus (DENV) is one of them. Dengue is a mosquito-borne viral disease that has rapidly spread around the world since the 1940s. One recent estimate indicates 390 million dengue infections per year [1]. As many arthropod-borne vertebrate viruses, DENV has to cross several anatomical barriers in the vector, to multiply in its body and to invade its salivary glands before gett...
More