2017-05-22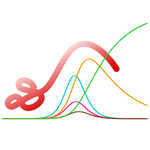 Can Ebola Virus evolve to be less virulent in humans?
Mircea T. Sofonea, Lafi Aldakak, Luis Fernando Boullosa, Samuel Alizon
10.1101/108589
Recommended by
Virginie Ravigné and François Blanquart based on reviews by

François Blanquart

and

Virginie Ravigné
A new hypothesis to explain Ebola's high virulence
The tragic 2014-2016 Ebola outbreak that resulted in more than 28,000 cases and 11,000 deaths in West Africa [1] has been a surprise to the scientific community. Before 2013, the Ebola virus (EBOV) was known to produce recurrent outbreaks in remote villages near tropical rainforests in Central Africa, never exceeding a few hundred cases with very high virulence. Both EBOV's ability to circulate for several months in large urban human populations and its important mutation rate sugges...
More