2019-10-22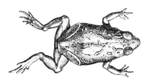 Geographic variation in adult and embryonic desiccation tolerance in a terrestrial-breeding frog
Rudin-Bitterli, T, Evans, J. P. and Mitchell, N. J.
10.1101/314351
Recommended by
Ben Phillips based on reviews by

Juan Diego Gaitan-Espitia

,

Jennifer Nicole Lohr

and 1 anonymous reviewer
Tough as old boots: amphibians from drier habitats are more resistant to desiccation, but less flexible at exploiting wet conditions
Species everywhere are facing rapid climatic change, and we are increasingly asking whether populations will adapt, shift, or perish [1]. There is a growing realisation that, despite limited within-population genetic variation, many species exhibit substantial geographic variation in climate-relevant traits. This geographic variation might play an important role in facilitating adaptation to climate change [2,3].
Much of our understanding of geographic variation in climate-relevant traits com...
More