MEUNIER Joël
Institut de Recherche sur la Biologie de l'Insecte (IRBI) - UMR 7261, CNRS / University of Tours, Tours, France
Adaptation, Behavior & Social Evolution, Evolutionary Theory, Genetic conflicts, Life History, Morphological Evolution, Non Genetic Inheritance, Other, Reproduction and Sex, Sexual Selection, Species interactions
recommender
Recommendation:
1
Review:
1
Areas of expertise
Social insects; Social evolution; Social immunity; Conflicts; Cooperation; Parental care; Gut microbiota; Pesticides; Chemical communication
Recommendation: 1
16 Dec 2016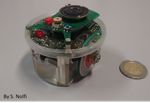 Evolutionary robotics simulations help explain why reciprocity is rare in nature.
Simulated robots and the evolution of reciprocity
Recommended by Michael D Greenfield and Joël Meunier
Of the various forms of cooperative and altruistic behavior, reciprocity remains the most contentious. Humans certainly exhibit reciprocity – under certain circumstances – and various non-human animals behave in ways suggesting that they do as well. Thus, evolutionary biologists have sought to explain why non-relatives might engage in altruistic transactions when a substantial delay occurs between helping and compensation; i.e. an individual may be a donor today and a beneficiary tomorrow, or vice-versa. This quest, aided by game theory and computer modeling late in the past century, identified some strategies for reciprocal behavior that could work – in theory. But when biologists looked for confirmation of these strategies in animals they found little evidence that stood up to rigorous testing. In a recent paper André and Nolfi [1] offer a compelling reason for this observed rarity of reciprocity: Reciprocal behavior that animals might exhibit is a bit more complex than any of the game theoretic strategies, and even the simplest forms of realistic behavior would entail several nearly simultaneous mutations, an unlikely occurrence. André and Nolfi [1] relied on neural networks to test actors, robots that could evolve helping and reciprocal behavior from a basal level of selfishness. In an extensive series of simulations, they found that reciprocal behavior did not take hold in a population, largely because the various intermediates to full reciprocity were eliminated before the subsequent mutations occurred. The findings are satisfying given our current knowledge of animal behavior, but questions remain. Notably, how does one account for those rare cases in which reciprocity does meet all the criteria? The authors suggest some possibilities, but an analysis will await their next study.
Reference
[1] André J-B, Nolfi S. 2016. Evolutionary robotics simulations help explain why reciprocity is rare in nature. Scientific Reports 6:32785. doi: 10.1038/srep32785
Review: 1
12 Jul 2017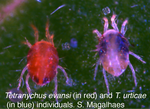 Despite reproductive interference, the net outcome of reproductive interactions among spider mite species is not necessarily costly
The pros and cons of mating with strangers
Recommended by Vincent Calcagno based on reviews by

Joël Meunier

and

Michael D Greenfield
Interspecific matings are by definition rare events in nature, but when they occur they can be very important, and not only because they might condition gene flow between species. Even when such matings have no genetic consequence, for instance if they do not yield any fertile hybrid offspring, they can still have an impact on the population dynamics of the species involved [1]. Such atypical pairings between heterospecific partners are usually regarded as detrimental or undesired; as they interfere with the occurrence or success of intraspecific matings, they are expected to cause a decline in absolute fitness.
The story is not always so simple however, and it might all depend on the timing of events and on the identity of the partners. Using the herbivorous mite Tetranychus urticae as a model, Clemente et al. [2] experimentally arranged matings with two other Tetranychus species that commonly share the same host plants as T. urticae. They carefully controlled the history of events: heterospecific matings could occur just before, just after, 24h before, or 24h after, a conspecific mating. Interestingly, the oviposition rate (total fecundity) of females was increased when mating with a heterospecific individual. This suggests that heterospecic sperm can stimulate oogenesis just as conspecific sperm does. Such a positive effect was observed for matings involving T. ludeni females and T. urticae males, but a negative effect is found in the interaction with T. evansi. Sex-ratio (fertilization success in those species) could also be impacted but, unlike fertilization, this occurred when the mating events were distant in time. This is is at odds with what is observed in conspecific matings, where sperm displacement occurs only if mating events are temporally close. Overall, the effects of heterospecific mating were quite variable and it is challenging to predict a single, general, effect of interspecific matings. The net effect will likely be context-dependent, depending on the relative frequency of the difference mating sequences and on how fecundity and sex-ratio contribute to overall fitness, both aspect strongly influenced by the population dynamics and structure.
References
[1] Gröning J. & Hochkirch A. 2008. Reproductive interference between animal species. The Quarterly Review of Biology 83: 257-282. doi: 10.1086/590510
[2] Clemente SH, Santos I, Ponce AR, Rodrigues LR, Varela SAM & Magalhaes S. 2017 Despite reproductive interference, the net outcome of reproductive interactions among spider mite species is not necessarily costly. bioRxiv 113274, ver. 4 of the 30th of June 2017. doi: 10.1101/113274