NIEBERDING Caroline
BDIV Research Centre, University of Louvain-la-Neuve, Louvain-la-Neuve, Belgium
Evolutionary Ecology, Other, Sexual Selection
recommender
Recommendations:
2
Reviews:
0
Areas of expertise
2001: Master in Biology at University of Liège (Belgium) 2005: PhD in Evolutionary Biology at the Institute of Science of Evolution at University of Montpellier (ISEM) and at the Centre for Management of Populations (CBGP) in Montpellier (France), together with the University of Liège (Belgium). Topic: Comparative phylogeography of a rodent and one of its nematode parasite. 2005-2008: Postdoctoral research in Evolutionary Ecology, at the Institute of Biology at Leiden University (the Netherlands). Topic: Role of male sex pheromone of the butterfly Bicyclus anynana in mate choice and sexual selection. Funded by a Marie Curie Intra-European Fellowship. From Sep 2008: Professor in Evolutionary Ecology at the University of Louvain-la-Neuve in Belgium. My research group is named "Evolutionary Ecology and Genetics" and I teach also from 2nd year Bachelor to 2nd year Master to students in Biology.
Recommendations: 2
28 Feb 2018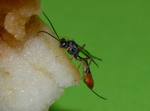 Insects and incest: sib-mating tolerance in natural populations of a parasitoid wasp
Incestuous insects in nature despite occasional fitness costs
Recommended by Caroline Nieberding and Bertanne Visser based on reviews by 2 anonymous reviewers
Inbreeding, or mating between relatives, generally lowers fitness [1]. Mating between genetically similar individuals can result in higher levels of homozygosity and consequently a higher frequency with which recessive disease alleles may be expressed within a population. Reduced fitness as a consequence of inbreeding, or inbreeding depression, can vary between individuals, sexes, populations and species [2], but remains a pervasive challenge for many organisms with small local population sizes, including humans [3]. But all is not lost for individuals within small populations, because an array of mechanisms can be employed to evade the negative effects of inbreeding [4], including sib-mating avoidance and dispersal [5, 6].
Despite thorough investigation of inbreeding and sib-mating avoidance in the laboratory, only very few studies have ventured into the field besides studies on vertebrates and eusocial insects. The study of Collet et al. [7] is a surprising exception, where the effect of male density and frequency of relatives on inbreeding avoidance was tested in the laboratory, after which robust field collections and microsatellite genotyping were used to infer relatedness and dispersal in natural populations. The parasitic wasp Venturia canescens is an excellent model system to study inbreeding, because mating success was previously found to decrease with increasing relatedness between mates in the laboratory [8] and this species thus suffers from inbreeding depression [9–11]. The authors used an elegant design combining population genetics and model simulations to estimate relatedness of mating partners in the field and compared that with a theoretical distribution of potential mate encounters when random mating is assumed. One of the most important findings of this study is that mating between siblings is not avoided in this species in the wild, despite negative fitness effects when inbreeding does occur. Similar findings were obtained for another insect species, the field cricket Gryllus campestris [12], which leaves us to wonder whether inbreeding tolerance could be more common in nature than currently appreciated.
The authors further looked into sex-specific dispersal patterns between two patches located a few hundred meters apart. Females were indeed shown to be more related within a patch, but no genetic differences were observed between males, suggesting that V. canescens males more readily disperse. Moreover, microsatellite data at 18 different loci did not reveal genetic differentiation between populations approximately 300 kilometers apart. Gene flow is thus occurring over considerable distances, which could play an important role in the ability of this species to avoid negative fitness consequences of inbreeding in nature.
Another interesting aspect of this work is that discrepancies were found between laboratory- and field-based data. What is the relevance of laboratory-based experiments if they cannot predict what is happening in the wild? Many, if not most, biologists (including us) bring our model system into the laboratory to control, at least to some extent, the plethora of environmental factors that could potentially affect our system (in ways that we do not want). Most behavioral studies on mating patterns and sexual selection are conducted in standardized laboratory conditions, but sexual selection is in essence social selection, because an individual's fitness is partly determined by the phenotype of its social partners (i.e. the social environment) [13]. The social environment may actually dictate the expression of female mate choice and it is unclear how potential laboratory-induced social biases affect mating outcome. In V. canescens, findings using field-caught individuals paint a completely opposite picture of what was previously shown in the laboratory, i.e. sib-avoidance is not taking place in the field. It is likely that density, level of relatedness, sex ratio in the field, and/or the size of experimental arenas in the lab are all factors affecting mate selectivity, as we have previously shown in a butterfly [14–16]. If females, for example, typically only encounter a few males in sequence in the wild, it may be problematic for them to express choosiness when confronted simultaneously with two or more males in the laboratory. A recent study showed that, in the wild, female moths take advantage of staying in groups to blur male choosiness [17]. It is becoming more and more clear that what we observe in the laboratory may not actually reflect what is happening in nature [18]. Instead of ignoring the species-specific life history and ecological features of our favorite species when conducting lab experiments, we suggest that it is time to accept that we now have the theoretical foundations to tease apart what in this "environmental noise" actually shapes sexual selection in nature. Explicitly including ecology in studies on sexual selection will allow us to make more meaningful conclusions, i.e. rather than "this is what may happen in the wild", we would be able to state "this is what often happens in nature".
References
[1] Charlesworth D & Willis JH. 2009. The genetics of inbreeding depression. Nat. Rev. Genet. 10: 783–796. doi: 10.1038/nrg2664
[2] Hedrick PW & Garcia-dorado A. 2016. Understanding inbreeding depression, purging, and genetic rescue. Trends Ecol. Evol. 31: 940–952. doi: 10.1016/j.tree.2016.09.005
[3] Bittles AH & Black ML. 2010. Consanguinity, human evolution, and complex diseases. Proc. Natl. Acad. Sci. United States Am. 107: 1779–1786. doi: 10.1073/pnas.0906079106
[4] Pusey A & Wolf M. 1996. Inbreeding avoidance in animals. Trends Ecol. Evol. 11: 201–206. doi: 10.1016/0169-5347(96)10028-8
[5] Greenwood PJ & Harvey PH. 1978. Inbreeding and dispersal in the great tit. Nature 271: 52–54. doi: 10.1038/271052a0
[6] Szulkin M & Sheldon BC. 2008. Dispersal as a means of inbreeding avoidance in a wild bird population. Proc. R. Soc. B 275: 703–711. doi: 10.1098/rspb.2007.0989
[7] Collet M, Amat I, Sauzet S, Auguste A, Fauvergue X, Mouton L, Desouhant E. 2018. Insects and incest: sib-mating tolerance in natural populations of a parasitoid wasp. bioRxiv 169268, ver. 4 peer-reviewed by Peer Community In Evolutionary Biology. doi: 10.1101/169268
[8] Metzger M, Bernstein C, Hoffmeister TS & Desouhant E. 2010. Does kin recognition and sib-mating avoidance limit the risk of genetic incompatibility in a parasitic wasp ? PLoS One 5: e13505. doi: 10.1371/journal.pone.0013505
[9] Beukeboom LW. 2001. Single-locus complementary sex determination in the Ichneumonid Venturia canescens. Netherlands J. Zool. 51: 1–15. doi: 10.1163/156854201X00017
[10] Vayssade C, de Fazio C, Quaglietti B, Auguste A, Ris N, Fauvergue X. 2014. Inbreeding depression in a parasitoid wasp with single- locus complementary sex determination. PLoS One 9: 1–8. doi: 10.1371/journal.pone.0097733
[11] Chuine A, Sauzet S, Debias F & Desouhant E. 2015. Consequences of genetic incompatibility on fitness and mate choice: the male point of view. Biol. J. Linn. Soc. 114: 279–286. doi: 10.1111/bij.12421
[12] Bretman A, Rodri R & Tregenza T. 2011. Fine-scale population structure , inbreeding risk and avoidance in a wild insect population. Mol. Ecol. 20: 3045–3055. doi: 10.1111/j.1365-294X.2011.05140.x
[13] West-Eberhard MJ. 2014. Darwin's forgotten idea: The social essence of sexual selection. Neurosci. Biobehav. Rev. 46: 501–508. doi: 10.1016/j.neubiorev.2014.06.015
[14] Holveck M-J, Gauthier A-L & Nieberding CM 2015. Dense, small and male-biased cages exacerbate male-male competition and reduce female choosiness in Bicyclus anynana. Anim. Behav. 104: 229–245. doi: 10.1016/j.anbehav.2015.03.025
[15] Nieberding, CM & Holveck M-J 2017. Laboratory social environment biases mating outcome: a first quantitative synthesis in a butterfly. Behav. Ecol. Sociobiol. 71: 117. doi: 10.1007/s00265-017-2346-9
[16] Nieberding CM & Holveck M-J. (In prep). Comentary on Kehl et al. 2018: "Young male mating success is associated with sperm number but not with male sex pheromone titres". Front. Ecol. Evol.
[17] Wijk M Van, Heath J, Lievers R, Schal C & Groot AT. 2017. Proximity of signallers can maintain sexual signal variation under stabilizing selection. Sci. Rep. 7: 18101. doi: 10.1038/s41598-017-17327-9
[18] Miller CW & Svensson EI. 2014. Sexual selection in complex environments. Annu. Rev. Entomol. 59: 427–445. doi: 10.1146/annurev-ento-011613-162044
18 Jan 2017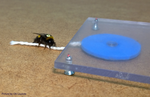 Associative Mechanisms Allow for Social Learning and Cultural Transmission of String Pulling in an Insect
Culture in Bumblebees
Recommended by Caroline Nieberding and Jacques J. M. van Alphen
This is an original paper [1] addressing the question whether cultural transmission occurs in insects and studying the mechanisms of such transmission. Often, culture-like phenomena require relatively sophisticated learning mechanisms, for example imitation and/or teaching. In insects, seemingly complex processes of social information acquisition, can sometimes instead be mediated by relatively simple learning mechanisms suggesting that cultural processes may not necessarily require sophisticated learning abilities.
An important quality of this paper is to describe neatly the experimental protocols used for such typically complex behavioural analyses, providing a detailed understanding of the results while it remains a joy to read. This becomes rare in high impact journals. In a clever experimental design, individual bumblebees are trained to pull an artificial flower from under a Plexiglas table to get access to a reward, by pulling a string attached to the flower. Individuals that have learnt this task are then shown to inexperienced bees while performing this task. This results in a large proportion of the inexperienced observers learning to pull the string and getting access to the reward. Finally, the authors could then document the spread of the string pulling skill amongst other workers in the colony. Even when the originally trained individuals had died, the skill of string-pulling persisted in the colony, as long as they were challenged with the task. This shows that cultural transmission takes place within a colony. The authors provide evidence that the transmission of this behavior among individuals relies on a mix of social learning by local enhancement (bees were attracted to the location where they had observed a demonstrator) and of non-social, individual learning (pulling the string is learned by trial and errors and not by direct imitation of the conspecific). Data also show that simple associative mechanisms are enough and that stimulus enhancement was involved (bees were attracted to the string when its location was concordant with that during prior observation).
The cleverly designed experiments use a paradigm (string-pulling) which has often been used to investigate cognitive abilities in vertebrates. Comparison with such studies indicate that bees, in some aspects of their learning, may not be different from birds, dogs, or apes as they also relied on the perceptual feedback provided by their actions, resulting in target movement to learn string pulling. The results of the study suggest that the combination of relatively simple forms of social learning and trial-and-error learning can mediate the acquisition of new skills and that bumblebees possess the essential cognitive elements for cultural transmission and in a broader sense, that the capacity of culture may be present within most animals.
Can we expect behavioural innovation such as string pulling to occur in nature? Bombus terrestris colonies can reach a total of several hundreds foragers. In the experiments, foragers needed on average 5 rounds of observations with different demonstrators to learn how to pull the string. As individuals forage in a meadow full of flowers and conspecifics, transmission of behavioural innovations by repeated observations shouldn't strike us as something impossible. Would the behavior survive through the winter? Bumblebee colonies are seasonal in northern areas and in the Mediterranean area but tropical species persists for several years. In seasonal species, all the workers die before winter and only new queens overwinter. So there is no possibility for seasonal foragers to transmit the technique overwinter. Only queens could potentially transmit it to new foragers in spring. However flowers are different in autumn and spring. Therefore, what queens have learnt about flowers in autumn would unlikely be useful in spring (providing that they can remember it). However there is no reason why the technique couldn't be transmitted from a colony to another between spring to autumn. Such transmission of new behaviour would more easily persist in perennial social insect colonies, like honeybees. Importantly, the bees used in these experiments came from a company whose rearing conditions are unknown, and only a few colonies were used for each experiment. As learning ability has a genetic basis [2-3], colonies differ in their ability to learn [4]. In this regard, the authors showed variation between individual bumblebees and between bumblebee colonies in learning ability. Hence, we would wish to know more about the level of genetic diversity in the wild, and of genetic differentiation between tested colonies (were they independent replicates?), to extrapolate the results to what may happen in the wild.
Excitingly, the authors found 2 true innovators among the >400 individuals that were tested at least once for 5 min who would solve such a task without stepwise training or observation of skilled demonstrators, showing that behavioural innovation can occur in very small numbers of individuals, provided that an ecological trigger is provided (food reward). Hence this study shows that all ingredients for the long proposed "social heredity" theory proposed by Baldwin in 1896 are available in this organism, suggesting that social transmission of behavioural innovations could technically act as an additional mechanism for adaptive evolution [5], next to genetic evolution that may take longer to produce adaptive evolution. The question remains whether the behavioural innovations are arising from standing genetic variation in the bees, or do not need a firm genetic background to appear.
References
[1] Alem S, Perry CJ, Zhu X, Loukola OJ, Ingraham T, Søvik E, Chittka L. 2016. Associative mechanisms allow for social learning and cultural transmission of string pulling in an insect. PloS Biology 14:e1002564. doi: 10.1371/journal.pbio.1002564
[2] Mery F, Kawecki TJ. 2002. Experimental evolution of learning ability in fruit flies. Proceeding of the National Academy of Science USA 99:14274-14279. doi: 10.1073/pnas.222371199
[3] Mery F, Belay AT, So AKC, Sokolowski MB, Kawecki TJ. 2007. Natural polymorphism affecting learning and memory in Drosophila. Proceeding of the National Academy of Science USA 104:13051-13055. doi: 10.1073/pnas.0702923104
[4] Raine NE, Chittka L. 2008. The correlation of learning speed and natural foraging success in bumble-bees. Proceeding of the Royal Society of London 275: 803-808. doi : 10.1098/rspb.2007.1652
[5] Baldwin JM. 1896. A New Factor in Evolution. American Naturalist 30:441-451 and 536-553. doi: 10.1086/276408