TENAILLON Olivier
IAME, Univ. Paris Diderot et Paris Nord, Paris, France
Other
recommender
Recommendation:
1
Reviews:
0
Recommendation: 1
11 May 2023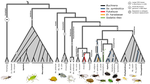 Co-obligate symbioses have repeatedly evolved across aphids, but partner identity and nutritional contributions vary across lineages
Flexibility in Aphid Endosymbiosis: Dual Symbioses Have Evolved Anew at Least Six Times
Recommended by Olivier Tenaillon based on reviews by

Alex C. C. Wilson

and 1 anonymous reviewer
In this intriguing study (Manzano-Marín et al. 2022) by Alejandro Manzano-Marin and his colleagues, the association between aphids and their symbionts is investigated through meta-genomic analysis of new samples. These associations have been previously described as leading to fascinating genomic evolution in the symbiont (McCutcheon and Moran 2012). The bacterial genomes exhibit a significant reduction in size and the range of functions performed. They typically lose the ability to produce many metabolites or biobricks created by the host, and instead, streamline their metabolism by focusing on the amino acids that the host cannot produce. This level of co-evolution suggests a stable association between the two partners.
However, the new data suggests a much more complex pattern as multiple independent acquisitions of co-symbionts are observed. Co-symbiont acquisition leads to a partition of the functions carried out on the bacterial side, with the new co-symbiont taking over some of the functions previously performed by Buchnera. In most cases, the new co-symbiont also brings the ability to produce B1 vitamin. Various facultative symbiotic taxa are recruited to be co-symbionts, with the frequency of acquisition related to the bacterial niche and lifestyle.
Despite this diversity of associations, the evolution of co-obligate symbiosis in aphids commonly involves just a handful of nutritional pathways. These include tryptophan biosynthesis (twice), histidine biosynthesis, riboflavin biosynthesis (six times), and biotin biosynthesis (five times). Microscopy analyses suggest that some co-symbionts colonize different bacteriocytes. Yet, a few traces of horizontal gene transfers in Buchnera suggest that some contact with other bacteria may occasionally occur.
The emergence of multiple co-symbioses highlights the success of a "menage à trois". However, this success is achieved by adding a new co-symbiont to an already established pair. It is possible that the slow but irreversible decay of the bacterial genome under symbiosis may lead to a degradation of the partnership, creating a niche for the acquisition of new bacteria to maintain the symbiosis.
REFERENCES
Manzano-Marín, Alejandro, Armelle Coeur D'acier, Anne-Laure Clamens, Corinne Cruaud, Valérie Barbe, and Emmanuelle Jousselin. 2023. "Co-Obligate Symbioses Have Repeatedly Evolved across Aphids, but Partner Identity and Nutritional Contributions Vary across Lineages." bioRxiv, ver. 5 peer-reviewed and recommended by Peer Community in Evolutionary Biology. https://doi.org/10.1101/2022.08.28.505559.
McCutcheon, John P., and Nancy A. Moran. 2012. "Extreme Genome Reduction in Symbiotic Bacteria." Nature Reviews Microbiology 10 (1): 13–26. https://doi.org/10.1038/nrmicro2670.