AUBRET Fabien
Station d'Ecologie Théorique et Expérimentale, CNRS, Moulis, France
Adaptation, Behavior & Social Evolution, Evolutionary Ecology, Genotype-Phenotype, Life History, Macroevolution, Non Genetic Inheritance, Phenotypic Plasticity, Phylogeography & Biogeography, Sexual Selection, Speciation
recommender
Recommendation:
1
Reviews:
0
Areas of expertise
2009-current: Full time Researcher CNRS (France) 2006-2008: Australian Post-doctoral Fellowship, School of Biological Sciences, Sydney University. Hosted by Pr. Shine. 2001-2005: PhD degree, University of Poitiers (France) and University of Western Australia (PERTH).
Recommendation: 1
04 Jun 2019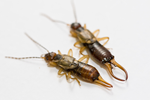 Thermal regimes, but not mean temperatures, drive patterns of rapid climate adaptation at a continent-scale: evidence from the introduced European earwig across North America
Temperature variance, rather than mean, drives adaptation to local climate
Recommended by Fabien Aubret based on reviews by

Ben Phillips

and

Eric Gangloff
Climate change is impacting eco-systems worldwide and driving many populations to move, adapt or go extinct. It is increasingly appreciated, for example, that species may adjust their phenology in response to climate change, although empirical data is scarce. In this preprint [1], Tourneur and Meunier report an impressive sampling effort in which life-history traits were measured across introduced populations of earwig in North America. The authors examine whether variation in life-history across populations is correlated with aspects of the thermal climate experienced by each population: mean temperature and seasonality of temperature. They find some fascinating correlations between life-history and thermal climate; correlations with the seasonality of temperature, but not with mean temperature. This study provides relatively uncommon data, in the sense that where most of the literature looking at adaptation in animals in response to climate change has focused on physiological traits [2, 3], this study examines changes in life-history traits with time scales relevant to impending climate change, and provides a reasonable argument that this is adaptation, not just constraint.
References
[1] Tourneur, J.-C. and Meunier, J. (2019). Thermal regimes, but not mean temperatures, drive patterns of rapid climate adaptation at a continent-scale: evidence from the introduced European earwig across North America. BioRxiv, 550319, ver. 4 peer-reviewed and recommended by PCI Evolutionary Biology. doi: 10.1101/550319
[2] Kellermann, V., Overgaard, J., Hoffmann, A. A., Fløjgaard, C., Svenning, J. C., & Loeschcke, V. (2012). Upper thermal limits of Drosophila are linked to species distributions and strongly constrained phylogenetically. Proceedings of the National Academy of Sciences, 109(40), 16228-16233. doi: 10.1073/pnas.1207553109
[3] Hoffmann, A. A., & Sgro, C. M. (2011). Climate change and evolutionary adaptation. Nature, 470(7335), 479. doi: 10.1038/nature09670