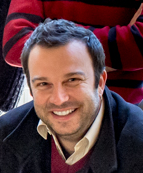 SUCENA Élio
Evolution and development, Instituto Gulbenkian de Ciência, Oeiras, Portugal
Adaptation, Evo-Devo, Experimental Evolution
recommender
Recommendation:
1
Reviews:
0
Recommendation: 1
14 Apr 2021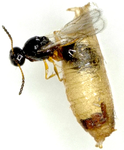 Parasitic success and venom composition evolve upon specialization of parasitoid wasps to different host species
What makes a parasite successful? Parasitoid wasp venoms evolve rapidly in a host-specific manner
Recommended by Élio Sucena based on reviews by

Simon Fellous

,

alexandre leitão

and 1 anonymous reviewer
Parasitoid wasps have developed different mechanisms to increase their parasitic success, usually at the expense of host survival (Fellowes and Godfray, 2000). Eggs of these insects are deposited inside the juvenile stages of their hosts, which in turn deploy several immune response strategies to eliminate or disable them (Yang et al., 2020). Drosophila melanogaster protects itself against parasitoid attacks through the production of specific elongated haemocytes called lamellocytes which form a capsule around the invading parasite (Lavine and Strand, 2002; Rizki and Rizki, 1992) and the subsequent activation of the phenol-oxidase cascade leading to the release of toxic radicals (Nappi et al., 1995). On the parasitoid side, robust responses have evolved to evade host immune defenses as for example the Drosophila-specific endoparasite Leptopilina boulardi, which releases venom during oviposition that modifies host behaviour (Varaldi et al., 2006) and inhibits encapsulation (Gueguen et al., 2011; Martinez et al., 2012).
Studies have shown that the wasp parasitic capacity is correlated to venom presence and its content (Colinet et al., 2009; Poirié et al., 2014), including that evolution of venom protein composition is driven by different levels of host susceptibility to infection (Cavigliasso et al., 2019). However, it had not been determined to this day, if and how parasitic range can affect venom protein composition and to which extent host specialization requires broad-spectrum factors or a plethora of specialized components.
These outstanding questions are now approached in a study by Cavigliasso and colleagues (Cavigliasso et al., 2021), where they perform experimental evolution of L. boulardi for 9 generations exposing it to different Drosophila host species and genetic backgrounds (two strains of D. melanogaster, D. simulans and D. yakuba). The authors tested whether the parasitic success of each selection regime was host-specific and how they influenced venom composition in parasitoids. For the first part, infection outcomes were assayed for each selection regime when cross-infecting different hosts. To get a finer measurement of the mechanisms under selection, the authors differentiated three phenotypes: overall parasitic success, encapsulation inhibition and escape from capsule. Throughout the course of experimental evolution, only encapsulation inhibition did not show an improved response upon selection on any host. Importantly, the cross-infection scenario revealed a clear specificity to the selected host for each evolved resistance.
As for venom composition, a trend of differential evolution was detected between host species, although a significant part of that was due to a larger differentiation in the D. yakuba regime, which showed a completely different directionality. Importantly, the authors could identify some of the specific proteins targeted by the several selection regimes, whether selected or counter-selected for. Interestingly, the D. yakuba regime is the only case where the key parasitoid protein LbSPNy (Colinet et al., 2009) was not counter-selected and the only regime in which the overall venom composition did not evolve towards the Ism strain, one of the two ancestral strains of L. boulardi used in the study. It is possible that these two results are correlated, since LbSPNy has been described to inhibit activation of the phenoloxidase cascade in D. yakuba and is one of the most abundant proteins in the ISy venom, making it a good target for selection (Colinet et al., 2013). The authors also discuss the possibility that this difference is related to the geographical distribution of the strains of L. boulardi, since each coincide with either D. melanogaster or D. yakuba.
This methodologically broad work by Cavigliasso and colleagues constitutes an important experimental contribution towards the understanding of how parasitoid adaptation to specific hosts is achieved at different phenotypic and mechanistic levels. It provides compelling evidence that venom composition evolves differently in response to specific parasitic ranges, particularly considering the evolutionary difference between the selective hosts. In line with this result, it is also concluded that the majority of venom proteins selected are lineage-specific, although a few broad-spectrum factors could also be detected.
The question of whether parasitic range can affect venom composition and parasitic success is still open to more contributions. A potentially interesting long-term direction will be to use a similar setup of experimental evolution on the generalist L. heterotoma (Schlenke et al., 2007) . On a more immediate horizon, comparing the venom evolution of both L. heterotoma and L. boulardi under selection with different hosts and under cross-infection scenarios could reveal interesting patterns. The recent sequencing of the L. boulardi genome together with the vast number of studies addressing mechanisms of Drosophila resistance to parasitoid infection, will enable the thorough characterization of the genetic basis of host-parasitoid interactions and the deeper understanding of these ubiquitous and economically-relevant relationships.

*This recommendation text has been co-written with Tânia F. Paulo who is not a recommender of PCI Evol Biol
References
Cavigliasso, F., Mathé-Hubert, H., Gatti, J.-L., Colinet, D. and Poirié, M. (2021) Parasitic success and venom composition evolve upon specialization of parasitoid wasps to different host species. bioRxiv, 2020.10.24.353417, ver. 3 peer-reviewed and recommended by Peer Community in Evolutionary Biology. https://doi.org/10.1101/2020.10.24.353417
Cavigliasso, F., Mathé-Hubert, H., Kremmer, L., Rebuf, C., Gatti, J.-L., Malausa, T., Colinet, D., Poiré, M. and Léne. (2019). Rapid and Differential Evolution of the Venom Composition of a Parasitoid Wasp Depending on the Host Strain. Toxins, 11(629). https://doi.org/10.3390/toxins11110629
Colinet, D., Deleury, E., Anselme, C., Cazes, D., Poulain, J., Azema-Dossat, C., Belghazi, M., Gatti, J. L. and Poirié, M. (2013). Extensive inter- and intraspecific venom variation in closely related parasites targeting the same host: The case of Leptopilina parasitoids of Drosophila. Insect Biochemistry and Molecular Biology, 43(7), 601–611. https://doi.org/10.1016/j.ibmb.2013.03.010
Colinet, D., Dubuffet, A., Cazes, D., Moreau, S., Drezen, J. M. and Poirié, M. (2009). A serpin from the parasitoid wasp Leptopilina boulardi targets the Drosophila phenoloxidase cascade. Developmental and Comparative Immunology, 33(5), 681–689. https://doi.org/10.1016/j.dci.2008.11.013
Fellowes, M. D. E. and Godfray, H. C. J. (2000). The evolutionary ecology of resistance to parasitoids by Drosophila. Heredity, 84(1), 1–8. https://doi.org/10.1046/j.1365-2540.2000.00685.x
Gueguen, G., Rajwani, R., Paddibhatla, I., Morales, J. and Govind, S. (2011). VLPs of Leptopilina boulardi share biogenesis and overall stellate morphology with VLPs of the heterotoma clade. Virus Research, 160(1–2), 159–165. https://doi.org/10.1016/j.virusres.2011.06.005
Lavine, M. D. and Strand, M. R. (2002). Insect hemocytes and their role in immunity. Insect Biochemistry and Molecular Biology, 32(10), 1295–1309. https://doi.org/10.1016/S0965-1748(02)00092-9
Martinez, J., Duplouy, A., Woolfit, M., Vavre, F., O'Neill, S. L. and Varaldi, J. (2012). Influence of the virus LbFV and of Wolbachia in a host-parasitoid interaction. PloS One, 7(4), e35081. https://doi.org/10.1371/journal.pone.0035081
Nappi, A. J., Vass, E., Frey, F. and Carton, Y. (1995). Superoxide anion generation in Drosophila during melanotic encapsulation of parasites. European Journal of Cell Biology, 68(4), 450–456.
Poirié, M., Colinet, D. and Gatti, J. L. (2014). Insights into function and evolution of parasitoid wasp venoms. Current Opinion in Insect Science, 6, 52–60. https://doi.org/10.1016/j.cois.2014.10.004
Rizki, T. M. and Rizki, R. M. (1992). Lamellocyte differentiation in Drosophila larvae parasitized by Leptopilina. Developmental and Comparative Immunology, 16(2–3), 103–110. https://doi.org/10.1016/0145-305X(92)90011-Z
Schlenke, T. A., Morales, J., Govind, S. and Clark, A. G. (2007). Contrasting infection strategies in generalist and specialist wasp parasitoids of Drosophila melanogaster. PLoS Pathogens, 3(10), 1486–1501. https://doi.org/10.1371/journal.ppat.0030158
Varaldi, J., Petit, S., Boulétreau, M. and Fleury, F. (2006). The virus infecting the parasitoid Leptopilina boulardi exerts a specific action on superparasitism behaviour. Parasitology, 132(Pt 6), 747–756. https://doi.org/10.1017/S0031182006009930
Yang, L., Qiu, L., Fang, Q., Stanley, D. W. and Gong‐Yin, Y. (2020). Cellular and humoral immune interactions between Drosophila and its parasitoids. Insect Science. https://doi.org/10.1111/1744-7917.12863