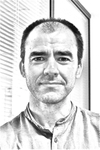 BRAVO Ignacio
Laboratory MIVEGEC (CNRS IRD Univ Montpellier), Centre National de la Recherche Scientifique (CNRS), Montpellier, France
Evolutionary Applications, Evolutionary Epidemiology, Experimental Evolution, Genome Evolution, Molecular Evolution, Other, Phylogenetics / Phylogenomics, Systematics / Taxonomy
recommender
Recommendations:
3
Reviews:
0
Areas of expertise
Academic Career 2015->> Research Director. French National Center for Scientific Research (CNRS), Montpellier, France. 2011-2015 Head of the Infections and Cancer Laboratory. Catalan Institute of Oncology (ICO), Barcelona, Spain. 2008-2011 Ramón y Cajal Research Fellow. Centre for Public Health Research (CSISP). Valencia. Spain. 2007-2008 Junior Professorship. Institute for Evolution and Biodiversity. University Münster, Münster, Germany. 2006. EMBO Short term fellowship (3 months). Laboratory Prof. Dr. Hervé Philippe. Université de Montréal, Canada. 2006-2007 Research Scientist. Laboratory Prof. Dr. Lutz Gissmann, Genome Modifications and Carcinogenesis, German Cancer Research Centre, Heidelberg, Germany. 2002-2006 Postdoctoral researcher. Laboratory Prof. Dr. Ángel Alonso Cell Differentiation, German Cancer Research Centre, Heidelberg, Germany. 1998-2002 PhD in Biology. 2002. Universidad de León, Spain. Selected recent publications Pimenoff V, Mendes de Oliveira C, Bravo IG. Transmission between Archaic and Modern Human Ancestors during the Evolution of the Oncogenic Human Papillomavirus 16. Mol Biol Evol. 2017 Jan;34(1):4-19. doi: 10.1093/molbev/msw214. Nicolás-Párraga S, Gandini C, Pimenoff VN, Alemany L, de Sanjosé S, Bosch FX and Bravo IG*. HPV16 variants distribution in invasive cancers of the cervix, vulva, vagina, penis, and anus. Cancer Med. 2016 Oct;5(10):2909-2919. doi: 10.1002/cam4.870. Mengual-Chuliá B, Bedhomme S, Lafforgue G, Elena SF, Bravo IG. Assessing parallel gene histories in viral genomes. BMC Evol Biol. 2016 Feb 5;16(1):32. doi: 10.1186/s12862-016-0605-4. Félez-Sánchez M, Trösemeier JH, Bedhomme S, González-Bravo MI, Kamp C, Bravo IG. Cancer, Warts, or Asymptomatic Infections: Clinical Presentation Matches Codon Usage Preferences in Human Papillomaviruses. Genome Biol Evol. 2015 Jul 1;7(8):2117-35. doi: 10.1093/gbe/evv129. Bravo IG and Félez-Sánchez M. "Papillomaviruses: viral evolution, cancer and evolutionary medicine". Evol Med Public Health. 2015 Jan 28;2015(1):32-51. doi: 10.1093/emph/eov003. Garcia-Perez, R, Ibanez C, Godinez JM, Arechiga N, Garin I, Perez-Suarez G, de Paz O, Juste J, Echevarria JE, Bravo IG.
 "Novel papillomaviruses in free-ranging Iberian bats: no virus-host co-evolution, no strict host specificity and hints for recombination". 
Genome Biol Evol (2014) 6(1):94-104. doi: 10.1093/gbe/evt211 Godínez JM, Nicolás-Párraga S, Pimenoff VN, Mengual-Chuliá B, Muñoz N, Bosch FX, Sánchez GI, McCloskey J, Bravo IG. "Phylogenetically related, clinically different: human papillomaviruses 6 and 11 variants distribution in genital warts and in laryngeal papillomatosis". Clin Microbiol Infect. (2014) 20(6):O406-13. doi: 10.1111/1469-0691.12420.