O'MEARA Brian
O'Meara Lab, U. of Tennessee, Knoxville, Knoxville, United States of America
Bioinformatics & Computational Biology, Evolutionary Ecology, Evolutionary Theory, Macroevolution, Molecular Evolution, Morphological Evolution, Phylogenetics / Phylogenomics, Phylogeography & Biogeography, Speciation, Systematics / Taxonomy
recommender
Recommendations:
0
Review:
1
Areas of expertise
Associate Prof at U Tennessee, Knoxville in Ecology and Evolutionary Biology PhD in Population Biology at UC Davis BA magna cum laude with highest honors in Biology, Harvard University
Review: 1
24 Oct 2019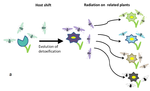 Testing host-plant driven speciation in phytophagous insects : a phylogenetic perspective
Phylogenetic approaches for reconstructing macroevolutionary scenarios of phytophagous insect diversification
Recommended by Hervé Sauquet based on reviews by

Brian O'Meara

and 1 anonymous reviewer
Plant-animal interactions have long been identified as a major driving force in evolution. However, only in the last two decades have rigorous macroevolutionary studies of the topic been made possible, thanks to the increasing availability of densely sampled molecular phylogenies and the substantial development of comparative methods. In this extensive and thoughtful perspective [1], Jousselin and Elias thoroughly review current hypotheses, data, and available macroevolutionary methods to understand how plant-insect interactions may have shaped the diversification of phytophagous insects. First, the authors review three main hypotheses that have been proposed to lead to host-plant driven speciation in phytophagous insects: the 'escape and radiate', 'oscillation', and 'musical chairs' scenarios, each with their own set of predictions. Jousselin and Elias then synthesize a vast core of recent studies on different clades of insects, where explicit phylogenetic approaches have been used. In doing so, they highlight heterogeneity in both the methods being used and predictions being tested across these studies and warn against the risk of subjective interpretation of the results. Lastly, they advocate for standardization of phylogenetic approaches and propose a series of simple tests for the predictions of host-driven speciation scenarios, including the characterization of host-plant range history and host breadth history, and diversification rate analyses. This helpful review will likely become a new point of reference in the field and undoubtedly help many researchers formalize and frame questions of plant-insect diversification in future studies of phytophagous insects.
References
[1] Jousselin, E., Elias, M. (2019). Testing Host-Plant Driven Speciation in Phytophagous Insects: A Phylogenetic Perspective. arXiv, 1910.09510, ver. 1 peer-reviewed and recommended by PCI Evol Biol. https://arxiv.org/abs/1910.09510v1