BAZYKIN Georgii
Laboratory of Molecular Evolution, Skolkovo Institute of Science and Technology, Moscow, Russia
Adaptation, Bioinformatics & Computational Biology, Evolutionary Dynamics, Evolutionary Theory, Genome Evolution, Human Evolution, Molecular Evolution, Population Genetics / Genomics
recommender
Recommendation:
1
Reviews:
0
Areas of expertise
Associate Professor, Skolkovo Institute of Science and Technology, Moscow, Russia, since 2018 (Assistant Professor since 2016) Head of Sector of Molecular Evolution, Kharkevitch Institute for Information Transmission Problems of the Russian Academy of Sciences, Moscow, Russia, since 2007 Leading researcher, Lomonosov Moscow State University, Moscow, Russia, since 2011 D.Sc. in Biology, 2018 PhD in Ecology and Evolution, Princeton University, 2007 Diploma (B.S.) in Biology, Moscow State University, 2001
Recommendation: 1
28 Aug 2019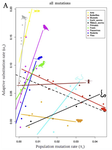 Is adaptation limited by mutation? A timescale-dependent effect of genetic diversity on the adaptive substitution rate in animals
To tinker, evolution needs a supply of spare parts
Recommended by Georgii Bazykin based on reviews by

Konstantin Popadin

,

David Enard

and 1 anonymous reviewer
Is evolution adaptive? Not if there is no variation for natural selection to work with. Theory predicts that how fast a population can adapt to a new environment can be limited by the supply of new mutations coming into it. This supply, in turn, depends on two things: how often mutations occur and in how many individuals. If there are few mutations, or few individuals in whom they can originate, individuals will be mostly identical in their DNA, and natural selection will be impotent.
This theoretical prediction has been hard to test. The rate at which new mutations arise in a population can be manipulated experimentally, and some work has shown that the fitness of a population increases more rapidly if more new mutations appear per generation, lending support to the mutation-limitation hypothesis [1]. However, the question remains whether this limitation has played a role in the history of life over the evolutionary timescale. Maybe all natural populations are so large, the mutation rate so high, and/or the environment changes so slowly, that any novel variant required for adaptation is already there when selection starts to act? Some recent work does suggest that when strong selection begins to favor a certain phenotype, multiple distinct genetic variants producing this phenotype spread; this is what has happened, for instance, at the origin of insecticide resistance in wild populations of Drosophila melanogaster [2] or lactose persistence in humans [3]. In many other cases, though, adaptations seem to originate through a single mutation event, suggesting that the time needed for this mutation to arise may be important.
To complicate things, adaptation is hard to quantify. It leaves a trace in differences between individuals of the same species as well as of different species. However, this trace is often masked or confounded by other processes, including natural selection disfavoring newly arising deleterious variants, interference from selection acting at linked sites, and changes in population size. In 1991, McDonald and Kreitman [4] have come up with a method to infer the rate of adaptation in the presence of strong negative selection, and later work has developed upon it to control for some of the other confounders. Still, the method is data-intensive, and previous attempts to employ it to compare the rates of adaptation between species have yielded somewhat contradictory results.
The new paper by Rousselle et al. recommended by PCI Evol Biol [5] fills this gap. The authors use published data as well as their own newly generated dataset to analyze, in a McDonald and Kreitman-like framework, both closely and distantly related species. Importantly, these comparisons cover species with very different polymorphism levels, spanning two orders of magnitude of difference levels.
So is adaptation in fact limited by supply of new mutations? The answer is, it depends. It does indeed seem that the species with a lower level of polymorphism adapt at a lower rate, consistent with the mutation-limitation hypothesis. However, this only is true for those groups of species in which the variability is low. Therefore, if a population is very small or the mutation rate very low, there may be in fact not enough mutations to secure its need to adapt.
In more polymorphic species, and in comparisons of distant species, the data hint instead at the opposite relationship: the rate of adaptations declines with variability. This is consistent with a different explanation: when a population is small, it needs to adapt more frequently, repairing the weakly deleterious mutations that can't be prevented by selection under small population sizes.
There are quite a few problems small populations have to deal with. Some of them are ecological: e.g., small numbers make populations more vulnerable to stochastic fluctuations in size or sex ratio. Others, however, are genetic. Small populations are prone to inbreeding depression and have an increased rate of genetic drift, leading to spread of deleterious alleles. Indeed, selection against deleterious mutations is less efficient when populations are small, and less numerable species accumulate more of such mutations over the course of evolution [6]. The work by Rouselle et al. [5] suggests that small populations also face an additional burden: a reduced ability to adapt.
Has the rate of adaptation in our own species also been limited by our deficit of diversity? The data hints at this. Homo sapiens, as well as the two other studied extinct representatives of the genus Homo, Neanderthals and Denisovans, belong to the domain of relatively low polymorphism levels, where an increase in polymorphism matters for the rate at which adaptive substitutions accumulate. Perhaps, if our ancestors were more numerous or more mutable, they would have been able to get themselves out of trouble, and there would be multiple human species still alive rather than just one.
References
[1] G, J. A., Visser, M. de, Zeyl, C. W., Gerrish, P. J., Blanchard, J. L., and Lenski, R. E. (1999). Diminishing Returns from Mutation Supply Rate in Asexual Populations. Science, 283(5400), 404–406. doi: 10.1126/science.283.5400.404
[2] Karasov, T., Messer, P. W., and Petrov, D. A. (2010). Evidence that Adaptation in Drosophila Is Not Limited by Mutation at Single Sites. PLOS Genetics, 6(6), e1000924. doi: 10.1371/journal.pgen.1000924
[3] Jones, B. L., Raga, T. O., Liebert, A., Zmarz, P., Bekele, E., Danielsen, E. T., Olsen, A. K., Bradman, N., Troelsen, J. T., and Swallow, D. M. (2013). Diversity of Lactase Persistence Alleles in Ethiopia: Signature of a Soft Selective Sweep. The American Journal of Human Genetics, 93(3), 538–544. doi: 10.1016/j.ajhg.2013.07.008
[4] McDonald, J. H., and Kreitman, M. (1991). Adaptive protein evolution at the Adh locus in Drosophila. Nature, 351(6328), 652–654. doi: 10.1038/351652a0
[5] Rousselle, M., Simion, P., Tilak, M. K., Figuet, E., Nabholz, B., and Galtier, N. (2019). Is adaptation limited by mutation? A timescale-dependent effect of genetic diversity on the adaptive substitution rate in animals. BioRxiv, 643619, ver 4 peer-reviewed and recommended by Peer Community In Evolutionary Biology. doi: 10.1101/643619
[6] Popadin, K., Polishchuk, L. V., Mamirova, L., Knorre, D., and Gunbin, K. (2007). Accumulation of slightly deleterious mutations in mitochondrial protein-coding genes of large versus small mammals. Proceedings of the National Academy of Sciences, 104(33), 13390–13395. doi: 10.1073/pnas.0701256104