WAHLBERG Niklas
Department of Biology, Lund University, Lund, Sweden
Macroevolution, Phylogenetics / Phylogenomics, Systematics / Taxonomy
recommender
Recommendations:
0
Review:
1
Areas of expertise
2016-present Professor in Biological Systematics, Lund University 2014-2015 Professor in Genetics, University of Turku 2011-2013 University Researcher, University of Turku 2006-2011 Academy Research Fellow (funded by Academy of Finland), University of Turku 2003-2006 Forskarassistent (Research Fellow, funded by Vetenskapsrådet), Stockholm University 2001-2002 Postdoc Stockholm University (funded by Academy of Finland), working with Sören Nylin 1996-2000 PhD University of Helsinki, supervised by Ilkka Hanski 1991-1996 MSc studies at the University of Helsinki
Review: 1
09 Dec 2019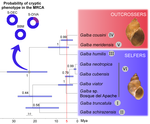 Systematics and geographical distribution of Galba species, a group of cryptic and worldwide freshwater snails
The challenge of delineating species when they are hidden
Recommended by Fabien Condamine based on reviews by

Pavel Matos

,

Christelle Fraïsse

and

Niklas Wahlberg
The science of naming species (taxonomy) has been renewed with the developments of molecular sequencing, digitization of museum specimens, and novel analytical tools. However, naming species can be highly subjective, sometimes considered as an art [1], because it is based on human-based criteria that vary among taxonomists. Nonetheless, taxonomists often argue that species names are hypotheses, which are therefore testable and refutable as new evidence is provided. This challenge comes with a more and more recognized and critical need for rigorously delineated species not only for producing accurate species inventories, but more importantly many questions in evolutionary biology (e.g. speciation), ecology (e.g. ecosystem structure and functioning), conservation biology (e.g. targeting priorities) or biogeography (e.g. diversification processes) depend in part on those species inventories and our knowledge of species [2-3]. Inaccurate species boundaries or diversity estimates may lead us to deliver biased answers to those questions, exactly as phylogenetic trees must be reconstructed rigorously and analyzed critically because they are a first step toward discussing broader questions [2-3]. In this context, biological diversity needs to be studied from multiple and complementary perspectives requiring the collaboration of morphologists, molecular biologists, biogeographers, and modelers [4-5]. Integrative taxonomy has been proposed as a solution to tackle the challenge of delimiting species [2], especially in highly diverse and undocumented groups of organisms.
In an elegant study that harbors all the characteristics of an integrative approach, Alda et al. [6] tackle the delimitation of species within the snail genus Galba (Lymnaeidae). Snails of this genus represent a peculiar case study for species delineation with a long and convoluted taxonomic history in which previous works recognized a number of species ranging from 4 to 30. The confusion is likely due to a loose morphology (labile shell features and high plasticity), which makes the identification and naming of species very unstable and likely subjective. An integrative taxonomic approach was needed. After two decades of taxon sampling and visits of type localities, the authors present an impressively dense taxon sampling at a global scale for the genus, which includes all described species. When it comes to delineate species, taxon sampling is often the key if we want to embrace the genetic and morphological diversity. Molecular data was obtained for several types of markers (microsatellites and DNA sequences for four genes), which were combined to morphology of shell and of internal organs, and to geographic distribution. All the data are thoroughly analyzed with cutting-edge methods starting from Bayesian phylogenetic reconstructions using multispecies coalescent models, followed by models of species delimitation based on the molecular specimen-level phylogeny, and then Bayesian divergence time estimates. They also used probabilistic models of ancestral state estimation to infer the ancestral phenotypic state of the Galba ancestors.
Their numerous phylogenetic and delimitation analyses allow to redefine the species boundaries that indicate that the genus Galba comprises six species. Interestingly, four of these species are morphologically cryptic and likely constitute species with extensive genetic diversity and widespread geographic distribution. The other two species have more geographically restricted distributions and exhibit an alternative morphology that is more phylogenetically derived than the cryptic one. Although further genomic studies would be required to strengthen some species status, this novel delimitation of Galba species has important implications for our understanding of convergence and morphological stasis, or the role for stabilizing selection in amphibious habitats; topics that are rarely addressed with invertebrate groups. For instance, in terms of macroevolutionary history, it is striking that an invertebrate clade of that age (22 million years ago) has only given birth to six species today. Including 30 (ancient taxonomy) or 6 (integrative taxonomy) species in a similar amount of evolutionary time does not tell us the same story when studying the diversification processes [7]. Here, Alda et al. [6] present a convincing case study that should foster similar studies following their approach, which will provide stimulating perspectives for testing the concepts of species and their effects on evolutionary biology.
References
[1] Ohl, M. (2018). The art of naming. MIT Press.
[2] Dayrat, B. (2005). Towards integrative taxonomy. Biological Journal of the Linnean Society, 85(3), 407–415. doi: 10.1111/j.1095-8312.2005.00503.x
[3] De Queiroz, K. (2007). Species concepts and species delimitation. Systematic Biology, 56(6), 879–886. doi: 10.1080/10635150701701083
[4] Padial, J. M., Miralles, A., De la Riva, I., and Vences, M. (2010). The integrative future of taxonomy. Frontiers in Zoology, 7(1), 16. doi: 10.1186/1742-9994-7-16
[5] Schlick-Steiner, B. C., Steiner, F. M., Seifert, B., Stauffer, C., Christian, E., and Crozier, R. H. (2010). Integrative taxonomy: A multisource approach to exploring biodiversity. Annual Review of Entomology, 55(1), 421–438. doi: 10.1146/annurev-ento-112408-085432
[6] Alda, P. et al. (2019). Systematics and geographical distribution of Galba species, a group of cryptic and worldwide freshwater snails. BioRxiv, 647867, v3 peer-reviewed and recommended by PCI Evolutionary Biology. doi: 10.1101/647867
[7] Ruane, S., Bryson, R. W., Pyron, R. A., and Burbrink, F. T. (2014). Coalescent species delimitation in milksnakes (Genus Lampropeltis) and impacts on phylogenetic comparative analyses. Systematic Biology, 63(2), 231–250. doi: 10.1093/sysbio/syt099