BEREC Ludek
Institute of Entomology, Laboratory of Theoretical Ecology, Biology Centre of the Czech Academy of Sciences, Ceske Budejovice, Czech Republic
Evolutionary Dynamics, Evolutionary Ecology, Evolutionary Epidemiology, Reproduction and Sex
recommender
Recommendation:
1
Reviews:
0
Areas of expertise
Ph.D. in applied mathematics; 18 years working in the field of theoretical ecology, specializing on population dynamics, both from ecological and eco-evolutionary perspective.
Recommendation: 1
04 Nov 2020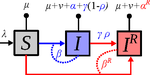 Treating symptomatic infections and the co-evolution of virulence and drug resistance
More intense symptoms, more treatment, more drug-resistance: coevolution of virulence and drug-resistance
Recommended by Ludek Berec based on reviews by 3 anonymous reviewers
Mathematical models play an essential role in current evolutionary biology, and evolutionary epidemiology is not an exception [1]. While the issues of virulence evolution and drug-resistance evolution resonate in the literature for quite some time [2, 3], the study by Alizon [4] is one of a few that consider co-evolution of both these traits [5]. The idea behind this study is the following: treating individuals with more severe symptoms at a higher rate (which appears to be quite natural) leads to an appearance of virulent drug-resistant strains, via treatment failure. The author then shows that virulence in drug-resistant strains may face different selective pressures than in drug-sensitive strains and hence proceed at different rates. Hence, treatment itself modulates evolution of virulence. As one of the reviewers emphasizes, the present manuscript offers a mathematical view on why the resistant and more virulent strains can be selected in epidemics. Also, we both find important that the author highlights that the topic and results of this study can be attributed to public health policies and development of optimal treatment protocols [6].
Mathematical models are simplified representations of reality, created with a particular purpose. It can be simple as well as complex, but even simple models can produce relatively complex and knitted results. The art of modelling thus lies not only in developing a model, but also in interpreting and unknitting the results. And this is what Alizon [4] indeed does carefully and exhaustively. Using two contrasting theoretical approaches to study co-evolution, the Price equation approach to study short-term evolution and the adaptive dynamics approach to study long-term evolution, Alizon [4] shows that a positive correlation between the rate of treatment and infection severity causes virulence in drug-sensitive strains to decrease. Clearly, no single model can describe and explain an examined system in its entirety, and even this aspect of the work is taken seriously. Many possible extensions of the study are laid out, providing a wide opportunity to pursue this topic even further. Personally, I have had an opportunity to read many Alizon's papers and use, teach or discuss many of his models and results. All, including the current one, keep high standard and pursue the field of theoretical (evolutionary) epidemiology.
References
[1] Gandon S, Day T, Metcalf JE, Grenfell BT (2016) Forecasting epidemiological and evolutionary dynamics of infectious diseases. Trends Ecol Evol 31: 776-788. doi: https://doi.org/10.1016/j.tree.2016.07.010
[2] Berngruber TW, Froissart R, Choisy M, Gandon S (2013) Evolution of virulence in emerging epidemics. PLoS Pathog 9(3): e1003209. doi: https://doi.org/10.1371/journal.ppat.1003209
[3] Spicknall IH, Foxman B, Marrs CF, Eisenberg JNS (2013) A modeling framework for the evolution and spread of antibiotic resistance: literature review and model categorization. Am J Epidemiol 178: 508-520. doi: https://doi.org/10.1093/aje/kwt017
[4] Alizon S (2020) Treating symptomatic infections and the co-evolution of virulence and drug resistance. bioRxiv, 2020.02.29.970905, ver. 3 peer-reviewed and recommended by PCI Evol Biol. doi: https://doi.org/10.1101/2020.02.29.970905
[5] Carval D, Ferriere R (2010) A unified model for the coevolution of resistance, tolerance, and virulence. Evolution 64: 2988–3009. doi: https://doi.org/10.1111/j.1558-5646.2010.01035.x
[6] Read AF, T Day, and S Huijben (2011). The evolution of drug resistance and the curious orthodoxy of aggressive chemotherapy. Proc Natl Acad Sci USA 108 Suppl 2, 10871–7. doi: https://doi.org/10.1073/pnas.1100299108